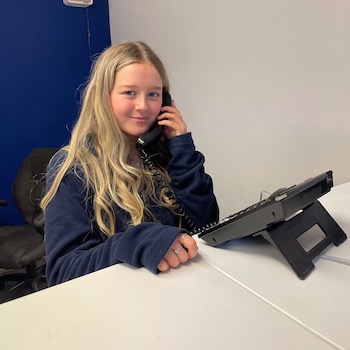 Petersen Stainless Rigging knows the positive impact of apprenticeships – many of our core team began their Petersen journey as apprentices, and have developed and progressed with the business, helping us to grow. However, this National Apprenticeship Week, we decided to ask one of our apprentices how they felt the blended approach to work and learning has benefitted them.
Our newest apprentice, Emily Forster, joined the team a year ago on a Business Administration Apprenticeship at Newcastle College. Despite the difficulties of the past 12 months – a shift to remote learning, various levels of lockdown, and tight COVID restrictions in the workplace – Emily has worked hard and is a valued colleague, always willing to help and enthusiastic to broaden her knowledge. Read on to find out what she thinks of her apprenticeship:
***
What's the best thing about doing an apprenticeship?
Doing an apprenticeship allows time to develop skills in a workplace environment, and completing my course has allowed me to gain transferrable skills while getting used to the fast pace of the workplace. Completing this apprenticeship has been more enjoyable than completing courses at college alone, as throughout my learning I am able to use the skills.
You've been a part of the team here for a while now – be honest, what is it like?!
The people are all so friendly and easy to get along with, everyone takes in to account how others feel and the staff I work alongside, no matter how high up in the company, are really welcoming and are happy to help with any issues you may have.
You're doing your apprenticeship at Newcastle College. It's been a difficult year – how is that going?
The team at college allowed me to quickly get though my exams to take stress away from my work life, they are always happy to help, and especially with the current situation are doing the best they can to complete work remotely.
What would be one piece of advice you'd give to someone considering an apprenticeship?
Ask as many questions as possible, and make sure that you are going to end up in a place where you aren't only learning but a place you enjoy going to. The opportunities are endless – being an apprentice means that you may start with only a couple of tasks but the chances to grow within the company are huge.
***
If you'd like to find out more about apprenticeships and how they can help to build your future business, go to www.apprenticeships.gov.uk for more information, and follow #NAW21 on social media.
We'd like to thank Newcastle College, where Emily is doing her apprenticeship, and TDR Training, where our three engineering apprentices – Leon Brown, Logan Bayley, and Jay Ridley - are studying, for all their help and support for both Petersen as a business and the individual apprentices.