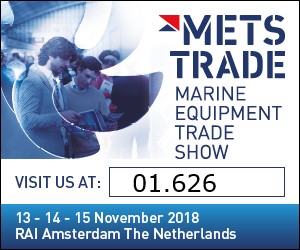 We will be at METSTRADE, the world's largest trade exhibition of marine equipment, materials and systems, supported by Bailey Marine, the newest addition to the Petersen family.
Over the three days of the show, members of the Petersen team - Kevin Bell, CEO, Aries Dijkhuizen, Business Development Manager, Paul Russell and Chris Friel from the UK marine team, Magnus Wosse from our office in Sweden, and Vernon Hultzer, flying in from our newest branch in Annapolis, Maryland - will be joined by John and Angela Bailey, together with Liz Gray, from Bailey Marine.
It is the ideal opportunity to catch up with the Petersen team while getting to know the Bailey range of products - as well as finding out more about our newly launched approval scheme for riggers using the Petersen Swaging System.
ATTENDING METSTRADE
METSTRADE is a B2B exhibition for the marine leisure industry, and also caters for three specialist sectors, namely Superyachts, Marinas and Yards, and Composites.
Location
METSTRADE is held at RAI Amsterdam, Europaplein 24, 1078 GZ AMSTERDAM, The Netherlands.
Dates and times
Tuesday 13th November, 10:00 to 18:00
Wednesday 4th November, 10:00 to 18:00
Thursday 5th November, 10:00 to 17:00
Registering
Registering to visit is free before the 5th November - and online registration is open now. Click here for more information.