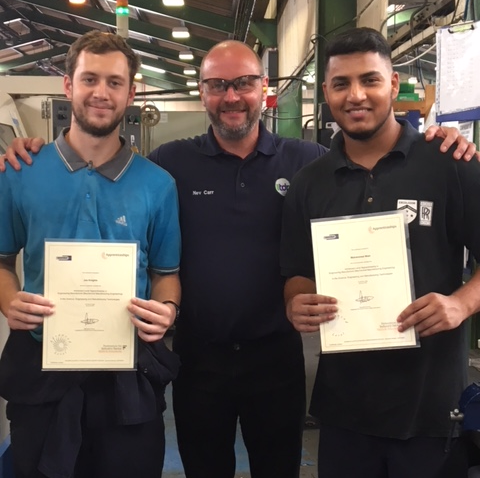 Apprentices Joe and Mohammed receive their certificates from Neville Carr of TDR Training
25th July 2018
Final year apprentices Joe Knights and Mohammed Miah have successfully completed their Level 3 NVQ courses.
The certificates were presented by Neville Carr, the TDR Apprenticeships Co-ordinator who has worked with Joe and Mohammed throughout their four year apprenticeships. "To combine real-world work with challenging study is a real commitment for these young men," he said. "I'm delighted to have seen these two grow into highly valued members of the Petersen manufacturing team, and I'm really looking forward to seeing how they thrive post-qualification – they are the first apprentices I have seen through the EAL Level 3 NVQ Extended Diploma in Mechanical Manufacturing Engineering (CNC Machining) – 600/1701/6 programme, and it's been a pleasure working with them and everyone at Petersen."
The engineering programme lasts for four years. The first three months is spent full time at TDR's training centre on Scotswood Road, to allow the apprentices to gain the Performing Engineering Operations (PEO) units which form part of the entry requirements of their qualification and provide essential basic engineering training. The first two years also includes the BTEC qualification, where the learner spends one day a week at college. They then work full time, and are assessed in the workplace via observation and the collation of evidence in a portfolio to complete their qualification, which is supported by the Engineering Council and recognised by the Institute of Mechanical Engineers (IMechE).
Shelley Wales, General Manager at Petersen, is responsible for the group's apprenticeship and training programme. "We partnered with TDR Training to deliver apprenticeships two years ago, having formerly been with NTC, and we couldn't have had better support. As a small business, taking on apprentices can be a daunting prospect, but Nev and the rest of the TDR team have worked closely to help and guide us and our apprentices through the whole process. I and the rest of the team have been amazed at the performance of both Joe and Mohammed."
Kevin Bell, CEO of Petersen, said, "I am very pleased with the progress made by our newly qualified apprentices – they represent a vital investment for us. To survive and thrive, we need to plan for the future, and the key to that is recruiting and developing a strong, well trained and skilled team. Apprenticeships play a vital role in that, and it's great to see that Petersen's future is in the hands of bright, hardworking and dedicated employees like Joe and Mohammed."
Petersen's apprenticeship vacancies for 2018 have already been filled, with four new apprentices starting their courses in September meaning that for the year 2018/19, Petersen will have seven apprenticeships with TDR.
See www.tdrtraining.co.uk for more information on TDR and their courses.