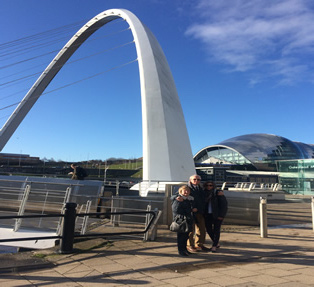 The team from Bailey Marine visit Petersen Head Office
12th June 2018
Petersen Stainless Rigging Ltd, a leading supplier of stainless steel rigging hardware solutions to the marine industry, has announced that Bailey Marine Ltd. has joined the group.
Kevin Bell, CEO of Petersen Stainless, commented on the acquisition, "We are thrilled that the Bailey Marine team has joined the Petersen family, and we are looking forward to introducing their products to our customers. As a specialist designer and manufacturer of marine products, Bailey Marine enhances the Petersen portfolio, and there is a real synergy between our two brands, both focusing on function-led design."
For decades, Bailey Marine has provided precision engineered deck fittings and furniture - latches, clamps, deck plates, fuel fillers, waste outlets, electrical points, custom hinges, and more - to commercial and leisure customers across the world. The acquisition of Bailey Marine supports Petersen's plans for growth, enabling the group to offer more products to customers existing and new.
"After a lifetime building the Bailey brand and product range, I wanted to ensure it passed into safe hands. Petersen has an enviable reputation for producing high quality products, but also for technical expertise, and I am delighted that the team there will be supporting me, my team, and my customers well into the future," explained John Bailey, founder and owner of Bailey Marine.
See www.bailey-marine.co.uk for more information on Bailey Marine and their products.