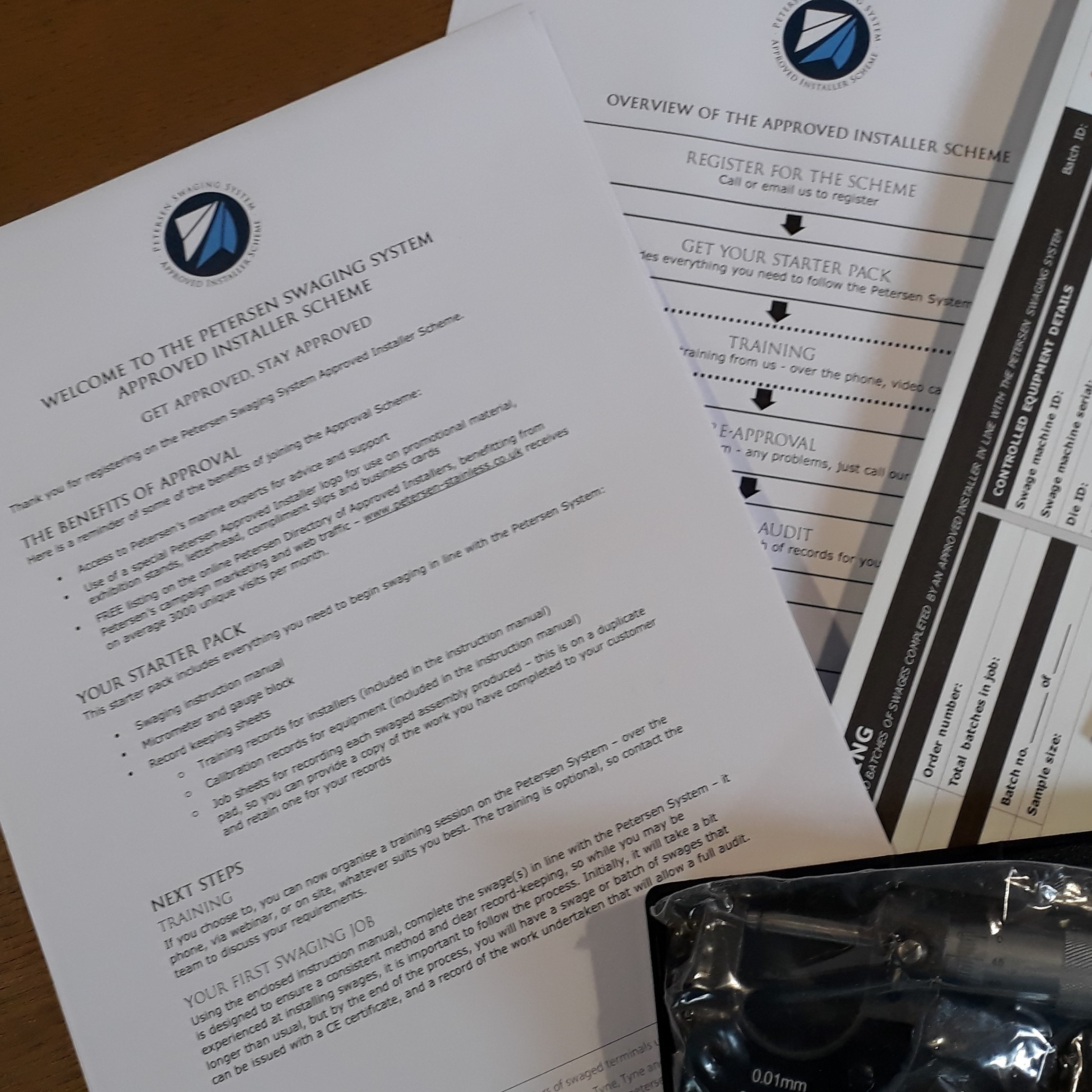 The PAIS starter pack has arrived!
12th Novermber 2018
We are pleased and proud to announce the launch of the Petersen Swaging System Approved Installer Scheme (PAIS). Through the scheme, which allows riggers to become Approved Installers of swaged terminals using the Petersen Swaging System, we aim to:
Encourage installers to achieve a recognised standard of work
Provide customer confidence in approved installers
Support the raising of standards across the marine industry
PAIS is the only approval scheme for the marine rigging industry. Achieving accreditation from Petersen is proof that an installer meets our rigorous standards, and installs swaged fittings in accordance with the Petersen Approved Method of Swaging, which complies with BS EN 13411-8 Terminations for steel wire ropes. Safety. Swage terminals and swaging.
What is BS EN 13411?
BS EN 13411 is the European standard which controls the safety of steel wire-rope terminations. Part 8 is the section focussed on swaged terminals and swaging. To conform to the standard, the assembly of wire-rope and swaged termination must provide at least 90% of the wire-rope's minimum breaking load (MBL) after 75,000 cycles of use. Petersen assemblies have undergone independent testing to ensure swages produced in line with our system will provide this level of performance and can be issued with a certificate of conformity.
Why use a Petersen Approved Installer?
By choosing to use an Approved Installer, your work is undertaken by an installer who:
Is manufacturer-trained
Uses an approved method
Uses genuine parts
Can give full traceability
Uses calibrated equipment
Is audited annually
Want to know more?
Find out more about the scheme here.
If you are an installer interested in applying for approval, contact our team direct to find out more about the process – just call 0191 414 0156 or email sales@petersen-stainless.co.uk for more information.