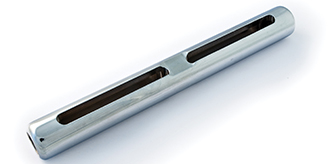 Petersen GTB Chromed-Bronze Turnbuckle Body key benefits:
Machined from ultrasonically inspected naval grade solid bronze bar
Chrome plated to service condition 4 - the highest available
Manufactured entirely in the UK
Up to 25% lighter than old-fashioned forged bodies
Modern, low-windage design
All Petersen GTB turnbuckles are machined from solid naval grade aluminium bronze. All our bronze is ultrasonically inspected to check there are no cracks or defects in the material before we start manufacture.
Our chrome plating is carried out under strict environmental controls and is categorised as service condition 4 - the highest level available. The service condition relates to the thickness of the protective nickel layer. Although aluminium bronze is highly corrosion resistant (the last thing that will be left of the Titanic will be her propellors) many customers prefer the look of chrome plating. A thick layer of nickel is expensive but essential to protect the copper substrate from the effects of the environment. You can easily spot when a manufacturer has tried to save cost by using a thin nickel layer by tell-tale dark spots or in extreme cases the entire body going green.
Our unique modern design and careful material selection have allowed us to create a turnbuckle body which is up to 25% lighter than an old-fashioned forged body. Unlike the many copies of the old Merriman turnbuckle in the market which must use a very soft bronze suitable for forging, the Petersen GTB turnbuckle body can be made from a high-strength grade of bronze which lets us reduce the overll size and therefore weight.
Petersen GTB Chromed-Bronze Turnbuckle Bodies are available with thread sizes 1/4" up to 1-3/8" from stock with larger sizes available on request.