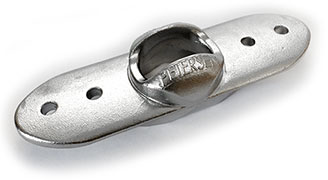 Petersen Stainless Rigging Ltd are now supplying backing plates for our popular SH shroud terminals.
Petersen shroud terminal backing plates are designed to replace Gibb 840 spoon terminal backing plates and will fit into the same holes in the mast.
8mm, 10mm and 12mm 840 style shroud backing plates are precision cast under an automotive quality system to ensure the highest integrity product possible. Samples are simultaneously cast to allow subsequent metalurgical and mechanical tests to be carried out.
Petersen forged swage shroud terminals are directly compatible with Gibb / Navtec 840-style backing plates and 841 style shroud terminals.
Petersen swage 840 style backing plates are available for metric wire sizes 3mm to 12mm and imperial wire sizes 1/8" to 1/2".