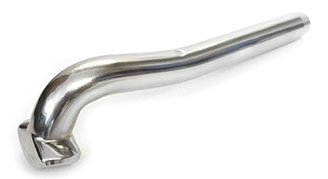 Petersen Stainless Rigging Ltd is pleased to announce our range of 741 style swage tee terminals. In an improvement on the original, the heads on our tee terminals are forged from low-carbon 316L using the same technology we use to make our certified lifting shackles to give a superior grain-structure with excellent fatigue and corrosion resistance.
All Petersen swage fittings start life as bar one size larger than the pre-swage diameter. We do this to allow us to remove the surface layer of the material which often contains shallow longitudinal cracks which can open up on swaging if not removed.
Petersen forged swage shroud terminals are directly compatible with Gibb / Navtec 740-style backing plates and many of the other mast tee backing plates currently in the market.
Petersen swage 741 style tee terminals are available for metric wire sizes 3mm to 10mm and imperial wire sizes 1/8" to 3/8".